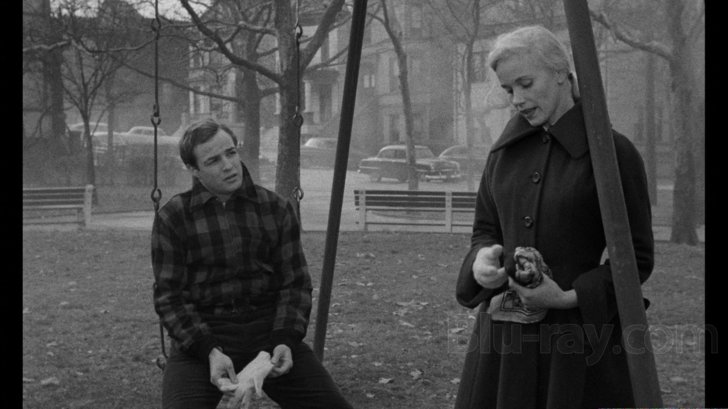 Eva Marie Saint is 90 years old today. Who's she?

Think of the actress who starred with Cary Grant in North by Northwest. Or, even earlier, as Marlon Brando's love interest in On the Waterfront.

Whenever I see her name, which, of course, isn't too often, my thoughts jump back to the day in 1954 when On the Waterfront opened at the Astor Theatre on Broadway.
There were no red carpets then so when my friend Carolyn and I decided to go to the premiere we stood in line outside on the sidewalk waiting to buy our tickets.

We were sixteen and well acquainted with the Broadway scene.

On many a Saturday afternoon we got on the subway at Flatbush Avenue and rode to Times Square, sometimes to see a Broadway show and at other times just to meander through the theatre district.
As we stood on line at the Astor, Karl Malden, who plays the priest in the movie, passed us on his way into the theatre. When he realized we recognized him he put his fingers to his lips in a gesture to us to not say anything.

Well, that was kind of nice, we thought.
After we got our tickets and found seats, Carolyn and I were also surprised to see Eva Marie Saint enter with her husband and sit a few rows behind us.

I recognized her husband because he was a well-known television director during the 1950s, the "golden years" of television drama.

Would Marlon Brando appear next?

We hoped and kept turning around to check the door.

We didn't see him.
The movie, of course, is now considered a classic.

Directed by Elia Kazan, it also starred Rod Steiger and Lee J. Cobb as the corrupt boss of the longshoreman's union.

On the Waterfront

won eight Academy Awards including Best Picture, Best Actor for Brando, Best Supporting Actress for Saint, and Best Director for Kazan.
There's another aspect of the film that is memorable for me – the fact that it was filmed in Hoboken.

At that time my Aunt Gertrude lived in a brownstone on Hudson Street which faced a park adjacent to the Hudson River.

Several of the scenes between Brando and Saint were filmed in this park.

And I recall the story of my Uncle Lou – true or not, I'm not sure – and how he found the film crew and confronted them about the noise they made that disturbed his neighbors.
So, even all these years later, when I see On the Waterfront I look for those park scenes which remind me of my visits to Hoboken.